It's here folks! The Christmas Slam Jam is happening this Sunday!
The Burning Sky host our 12th session of the year.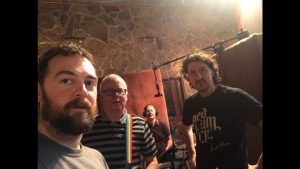 As if we needed anything else to bring out the faithful and aspiring stars, we have very special guests The Left Indicators. They are Georgie W (The Maximum Who. The Wickermen), Happy Dave (The Wickermen, Shigpit), Paul the Bass (The Braindrops) and Damo on drums (The Wickermen).
They will be doing a set of original tunes to finish the night.
As always all gear is provided and all standards and genres are most welcome.
Let us know early if you want to take part. It'll be chocker!